The City of Derby benefits from a range of high-quality economic assets, infrastructure and locations for future growth, as shown in the plan below and referenced in key information tables.
Derby's key economic infrastructure
   RAIL
AIR

London passenger services 1h30
East Midlands Parkway 11 mins
Birmingham 40 mins

East Midlands Airport: 14 miles; 25 mins – UK's main air freight hub

 ROAD
BROADBAND

M1 Junction 25: 8 miles; 12 mins
A52 to Nottingham: 15 miles; 30 mins

Top 5 UK Superfast Broadband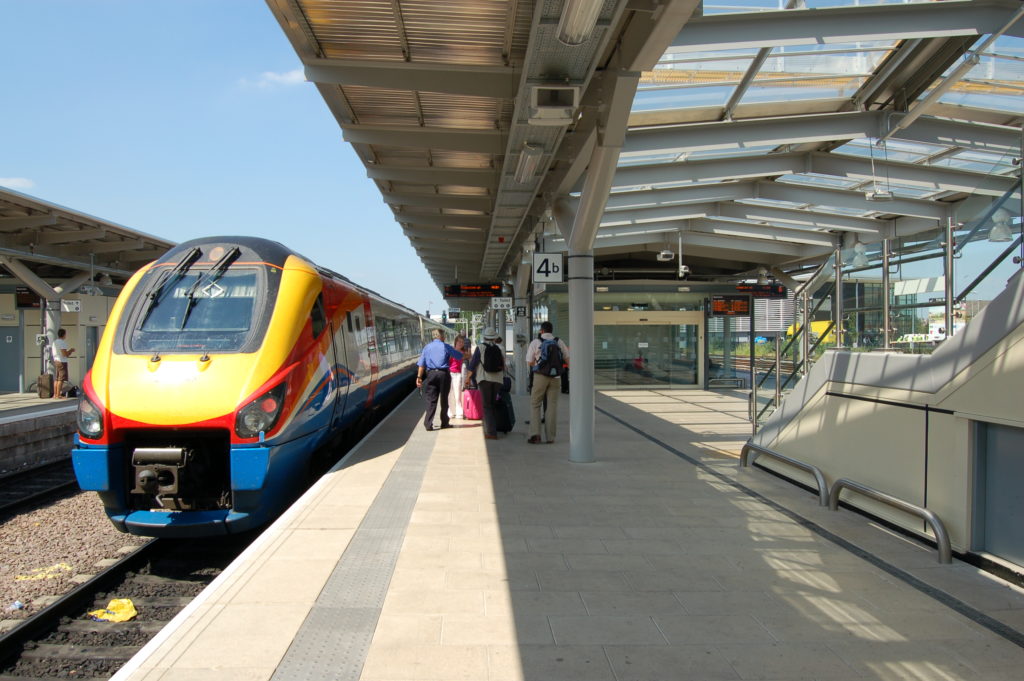 Derby key facts
Population:  256,2000 (63% of working age[18])
Business stock: 8,990 businesses[19]
Annual GVA: £6,932 million[20]
Investment: £3.7bn invested since 2005[21]
Key industries: manufacturing, health & retail
Average house price: £175,000[22]
Derby's economic growth locations – Core Strategy (2017)  strategic employment sites
INFINITY PARK ENTERPRISE ZONE (8)
Infinity Park is a high-quality business park development with a focus on supporting high-tech innovation in the automotive, rail, aerospace and energy sectors. The 68-hectare site to the south of the City, is adjacent to the existing Rolls-Royce world aerospace headquarters at Sinfin. The site is also in close proximity to Toyota Manufacturing UK (2) and the UK headquarters of Bombardier Rail (3), with direct access to the A50 provided by a new £10m link road.  It is expected to accommodate new and existing business and benefits from links to existing manufacturing facilities within the City. Set at the heart of the park is the iHub a new 45,000 sq.ft. innovation centre completed in 2016 which will act as a catalyst for high-skilled job creation and further investment.
CITY CENTRE (11)
The renaissance of the City Centre is a City Council priority, with a focused plan for the Centre's various core areas and a vision for a vibrant city centre established in the City Centre Masterplan (2016). The Core Strategy (2017) outlines the targets to develop 1,700 new homes and over 100,000sqft of new office space in the City Centre by 2028. The strategy includes the delivery of office space, high-quality retail, improved civic uses and residential development. This will also include developing some currently underutilised City Centre areas such as 'Eastern Fringes' enabling them to support the overall City Centre economy.
DERWENT TRIANGLE, CHADDESDEN
A 28-hectare former mineral extraction site will deliver high-quality accommodation for a range of industrial and businesses located close to the City Centre, Derby Station and Pride Park. The proximity of Derwent Triangle to Pride Park and Derby Arena also opens up opportunities to create and enhance this emerging 'leisure/visitor' hub.
DERBY COMMERCIAL PARK, RAYNESWAY
The ambition is to develop the 65-hectare Derby Commercial Park on the eastern side of the City as a major regional hub for logistics and distribution development – taking advantage of links to the A50, M1 and East Midlands Airport. Outline planning permission is in place for a flagship storage and distribution park.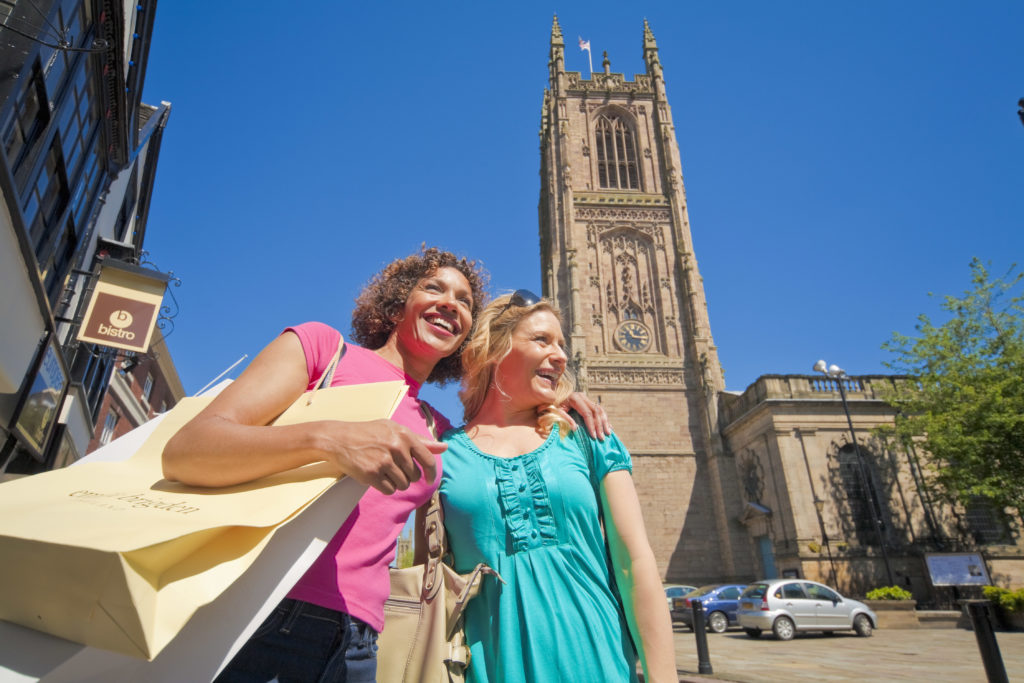 Derby's economic assets
CITY CENTRE
The City Centre is one Derby's key economic assets as the historic commercial, retail and leisure hub of the City. The Intu shopping centre is the main retail focus and home to flagship stores of Debenhams and Marks and Spencer, alongside national food chains such as Wagamama, Zizzi and Carluccio.

The City's historic Cathedral Quarter is the location of much of Derby's high-quality retail business and leisure offer – whist the St Peter's Quarter has benefited from multi-million-pound investment from the City Council in enhanced public realm to create a much-improved shopping environment.

The City Centre is also home to Derby's key cultural and leisure destinations such as the Quad Arts Centre opened in 2008 and Derby Arena, in Pride Park within close proximity to the City Centre, which opened in 2015 which is the Midlands' velodrome and the premier large events venue in Derby. £4.5m (from £8.6m) has been made available to re-develop the New Assembly Rooms in the City Centre.
PLANES, TRAINS & AUTOMOBILES
Derby and the surrounding area is home to three of the UK's key original equipment manufacturers, supporting thousands of jobs and extensive supply chains in the City:
Rolls-Royce Civil Aerospace (1) – one the two largest manufacturers of jet engines for wide-body civil aircraft in the world. The company employs around 14,000 people in Derby, with its global HQ located at Sinfin around 3 miles to the south of Derby City Centre. Investment by the City Council and D2N2 LEP to realign highways in the area will enable a £100m investment in the Rolls-Royce campus including a new £90m test bed.
Bombardier Transportation (3)

– Almost 3,500 people are directly employed in rail vehicle manufacture in Derby – most of whom work for Bombardier which has produced a significant proportion of the country's most-technologically advanced rail rolling stock for mainline and London Underground. In 2014, the company won the £1bn contract for the construction of the 65 trains for Crossrail due to open later in 2018.

Toyota Manufacturing UK – 2,500 workers are employed on the firm's Burnaston site in South Derbyshire, 2 miles from the Derby city boundary. The production facility has been active for 25 years and produced 180,000 vehicles in 2016 – 10% of the UK auto industry's total output. The plant currently assembles the Corolla model, largely for export to the EU. Since 2004, the Toyota group has invested £150m to expand production capacity and re-tool for new models, and a further £240m was announced in March 2017.
PRIDE PARK & RAILWAY TECHNICAL CENTRE BUSINESS PARK
Pride Park, a former railway yard and regeneration priority, was the sole B1a site in the previous local plan. As a result it has been the focus of new office development in the city for 15 years. Today, Pride Park is home to Derby Arena, Derby Manufacturing UTC, Derby College's Roundhouse campus (including the Engineering and Construction Academies), the Derby County stadium and an 80 hectare business park, as well as a commercial area and hotel accommodation. Call centres employ more than 1,600 people at Pride Park, where Firstsource Solutions and Webhelp UK provide customer service support to Sky and Unilever. The 2017 adopted Core Strategy allocates 28 hectares of employment land to extend Pride Park, the 'Derwent Triangle'.

The RTC Business Park is on the site of the former research centre for British Rail, the Railway Technical Centre. Amongst the 30 organisations accommodated on the business park are:

·       Atkins, an engineering consultancy;

·       The University of Birmingham's multi-disciplinary railway research centre;

·       RVEL, a rolling stock maintenance company; and,

·       the iD centre, the University of Derby's incubation facility
DERBY COLLEGE & DERBY UNIVERSITY
Derby College has 5,000 full time learners aged 16-19 and 3,000 adult learners both full and part time. The college supported approximately 1,500 apprentices in 2016. The Roundhouse Campus at Pride Park is a vocational education institution offering courses in hospitality, care, IT, construction and engineering. The Engineering Academy has links with local employers in Aerospace (Rolls-Royce), Rail (Interfleet, Garrendale, DB Schenker, Bombardier) and Advanced Manufacturing (EPM Technology, Pentaxia,  Guilford Europe).

The University of Derby, based 2 miles north-west of the city centre, has over 16,000 students, of which 14,000 are undergraduates. It is a top ten university for Fashion. Hospitality, Events, Journalism and Photography. The teacher training it provides has been rated as outstanding by Ofsted
Footnotes
[18] ONS Mid -Year Population Estimates (2016)
[19] UK Business Counts Local Units (2016)
[20] ONS Regional GVA 2015
[21] Marketing Derby investment prospectus 2016/17
[22] Rightmove